Win a Star Wars Yoda Statue at Yodasnews!
From our friends at YodasNews.com:
Gentle Giant Day will be held Saturday, November 14, the event will be an end of the year round up for Gentle Giant LTD. Gentle Giant Day will be held at a local vendor's new location called, "Blast from the Past". It will serve as a show case for the last quarter of 2015 product. They will also display production samples of current work and possibly do a reveal of unannounced product.
Gentle Giant knows that not all fans and collectors can make it out (but if you can, it should be awesome), so we teamed up with them to do two online giveaways to celebrate the Gentle Giant Day event that all our readers can take part in. The first one kicks off right now and is for a Gentle Giant Yoda Statue!
To be entered, just send us a picture of your favorite Gentle Giant item in your collection, or a pic of your entire Gentle Giant collection! We are looking for actual images of YOUR collection, not a google or stock image! Send your picture (or pictures) to us at YodasnewsGiveaway@gmail.com with the subject line "Gentle Giant Day YN Giveaway 1" and include your full mailing address. This one is open to everyone (outside of the US will be responsible for any import or custom fees), but we'll ship it out for free! All pics must be sent by 11:59pm EST on Novemeber 6th 2015.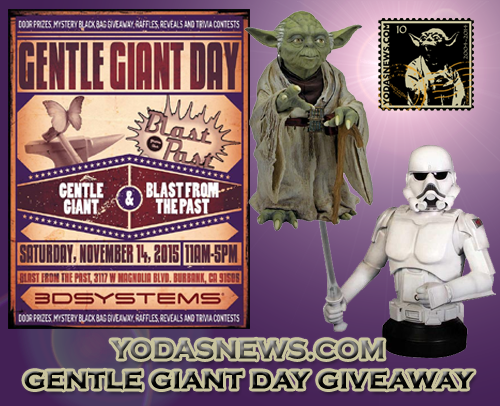 Along with all the Gentle Giant product, samples and possible reveals that will be showcased at the event, they will have door prizes, mystery black bag giveaways and trivia contests. Anyone who shows up to the event can sign the event guest list and receive a coupon code for the Gentle Giant website. By attending Gentle Giant day you will be able to see all of the 4th quarter releases, very cool prototypes and past products they have solicited. The event is free to attend and will take place on November 14th 2015. It will start at 11am and go till 5pm at Blast from the Past which is located at 3117 W Magnolia Blvd in Burbank California! Click here for the Facebook Event page!
Zap G.I. Joe Jumbo Figure
Inspired by the Hasbro vintage GI Joe A Real American Hero figure, Gentle Giant Ltd. is proud to bring you the GI Joe Bazooka Soldier, Code Name: ZAP. One of the first figures released in the series that started in 1982, continuing our amazing series of jumbo vintage figures.
From the GI Joe Command File: BAZOOKA SOLDIER Code Name: ZAP File Name: Melendez, Rafael J. Primary Military Specialty: Engineer Secondary Military Specialty: Infantry Artillery Birthplace: New York City, New York Grade: E-4 Rafael "Zap" Melendez is one of the original 13 members of the G.I. JOE team. He's a specialist in armor-piercing and anti-tank weapons, but he also assists the team as a demolitions expert. From his training in Engineering School, Ordnance School, and Advanced Infantry, he's acquired field skills that he applies with his characteristic coolness under fire and a professional attitude in any situation.
He's participated in many battles against COBRA and uses knowledge gleaned from those missions to pinpoint and attack the evil organization's weak points. And just to be absolutely sure of the outcome, he backs up every plan with plenty of weapons and explosives. "The stuff I work on could blow up at any time, so I have to make sure that anytime something explodes, it causes COBRA COMMANDER to have a very bad day." The GI Joe A Real American Hero Jumbo Figure line features reproductions of the original 3 ¾" figures, using digital scanning and outputting to create an exact replica, only larger.
Each figure will be reproduced using the original engineering, right down to the internal rubber band. The figures will be injection molded with durable plastics. Each GI Joe A Real American Hero Jumbo Figure will include accurate articulation, all of the character's accessories, and will be packaged on a backer card featuring photos and artwork from the original packaging, all the way down to the File Card on the back.
Secret Wars Micro Bobbles Series 1
Digitally scanned from the original Secret Wars toys and reproduced in a 2.5" Bobble Head format, no detail has been overlooked. These Micro Bobbles feature PVC construction, accurate paint applications, and a metal spring for bobble head feature.
NEW: Potted Groot
Before the Flora Colossus named Groot appeared on the big screen, in Marvel's Guardians of the Galaxy, he was busy making his name in the Guardians of the Galaxy comic series from Marvel Comics. As a member of the Guardians of the Galaxy, Groot helped the team through Annihilation: Conquest, War of Kings, Thanos Imperative and other, major, cosmic battles. Many times Groot has given his all for the team, sacrificing his body. However, as long as a single twig remained, it would re-grow into a new body for Groot
Secret Wars Hobgoblin Jumbo Figure
Secret Wars Hobgoblin Jumbo Figure Is now up for order! Click here!
Digitally scanned from the original Mattel Secret Wars figures and reproduced in 12" scale, no detail has been overlooked. Roto and injection molded and made of durable plastics, this fully-articulated jumbo figure includes a faithfully re-produced lenticular shield. Hobgoblin comes with his signature glider with an impressive 15 inch wingspan
New Pre-Order - G.I. JOE Rock 'N Roll Jumbo Figure
New Pre-Order - Groot and Rocket Raccoon
New Pre-Order - Iron Man Sorayama Metropolis Variant
New Pre-Order - Honey Trap Kay-Ya
New Pre-Order - Admiral Ackbar Kenner Jumbo
New Pre-Order - Iron Man 3 Mark 38 "IGOR"
Video Tour at SDCC 2014
New Line - JUMBO KENNER G.I. JOE!
Gentle Giant and 3DSystems Booth Images SDCC 2014
Final Star Wars SDCC Exclusive - R2-KT Maquette
Padme Amidala Statue and Yoda Ilum Statue First Look Unboxing and Review
Rocket Raccoon Mini Bust - SDCC 2014 Exclusive
The Guardians of the Galaxy has a strange and diverse membership. So diverse, in fact, a talking anthropomorphic raccoon with a foul mouth and large gun seems normal by comparison. Rocket is a brilliant tactician and an expert marksman. He uses his skills to help defend the Galaxy from a wide variety of threats and horrors.
Gentle Giant Ltd. is proud to bring you the Rocket Raccoon Mini Bust! This exciting limited edition bust, digitally sculpted by our master artisans, is rendered using the highest quality polystone and hand painted. Each piece comes individually numbered and is paired with a matching certificate of authenticity. Make Mine Marvel!
SDCC 2014 Exclusive Luke Skywalker McQuarrie Concept Mini Bust